Union Fire Company No. 1
35 W Louther St Carlisle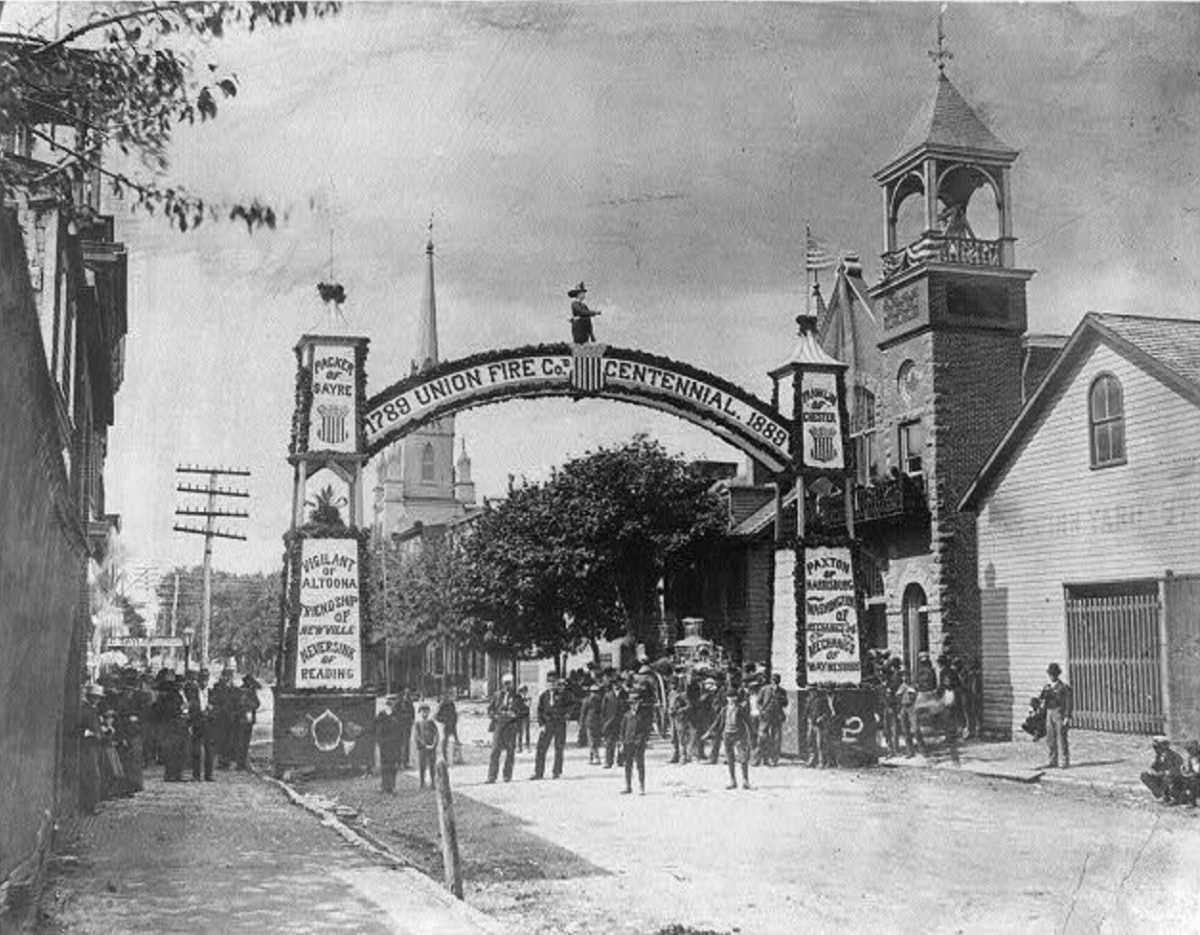 Formed in 1789 in response to a horrible fire that destroyed several structures on North Hanover Street, the Union Fire Company No. 1 has served the Carlisle region for over 230 years.
When concerned citizens banded together in response to a major fire in dowtown Carlisle, The Union Fire Company was formed. It had modest beginnings, with their first hand-operated engine being housed in a shed beside the courthouse on the Square. Thankfully, fires were rare enough in early Carlisle that the company had become defunct by the early 1800s. In 1821, the reactivated Union Fire Company and the Cumberland Fire Company, which had formed during the inactivity of the Union, joined together to build a two-story town hall and firehouse near the Square.
Ironically, an arson fire ravaged this firehouse in 1845, putting all four fire engines kept there out of service and jeopardizing the future of both fire companies. Seeing the value of having standing fire companies, the local community collected money and purchased new firefighting equipment for both the Union and the Cumberland soon after. By 1859, the Union had moved to West Louther Street and built a two-story brick firehouse. When the Civil War broke out in 1861, the Union Guard was mustered from within the fire company's ranks, and more than 100 Union men served during the war.
In 1870, the Union replaced their hand-operated engine with one powered by steam. As part of their centennial celebration in 1889, the Union built the brick portion of the firehouse they still occupy today and hosted the state fireman's convention. Always looking to protect their neighbors, the Union was the first company in the Cumberland Valley to purchase a motorized fire engine in 1913, and in 1931, the Union Rural Service was created to protect citizens outside the Carlisle city limits. The Union purchased their first water tanker in the 1950s to help fight fires in situations where hydrants were unavailable. Their three-bay engine garage was built in 1977, and this was extensively remodeled in 2010.
When that group of townspeople came together to form the Union Fire Company in the beginning years of our nation, they may not have realized that their act of civic responsiblity would carry on for what has now been 9+ generations and save countless local lives and properties from fire. To read more about the Union Fire Company, please follow this link.
The Union Fire Company has a firefighting museum, which can be seen by contacting them to make arrangements.
Sources: CCHS Gardner Library website and Union Fire Company website.
fire museum, firehouse, firefighting history, local history, carlisle history